On October 30, 2020, an international webinar on issues related to neurotrauma was organized by the neurosurgical community of Uzbekistan, the country's Republican Research Center of Emergency Medicine, and the Republican Specialized Scientific and Practical Medical Center of Neurosurgery, with the support of the Academy for Multidisciplinary Neurotraumatology (AMN).
Regardless of boundaries and culture, neurosurgeons are concerned about the general issues of TBI care, as well as reducing morbidity and mortality. To address these issues, professor Christian Matula (Austria) presented the burden of traumatic brain injury worldwide.
The results of the CAPTAIN Trial Series were presented by principal investigator professor Dafin Muresanu (Romania), the Secretary-General of the AMN. To date, the CAPTAIN trials are the most innovative evidentiary investigation on neurotrauma, having observed the efficacy and safety of pharmacological intervention with a multimodal biological agent after traumatic brain injury (TBI).
What are the main concerns of neurosurgeons in Uzbekistan?
Dr. Mahkamjon Makhamov, the AMN local coordinator in Uzbekistan, discussed the need for an expansion of cooperation, exchange of experience, new research projects and international meetings in the region. In the second part of this presentation, Dr. Makhamov introduced his experience with cisternotomy for severe TBI, widely introduced into practice at national level in the Republican Research Center for Emergency Medicine.
For Uzbekistan, a close collaboration with the AMN is important because TBI-statistics in Uzbekistan demonstrate alarming trends. With a population of over 34 million people, the incidence of TBI is 120.000 cases per year, of which 15% is attributable to severe TBI, and many cases lead to mortality in the working-age population.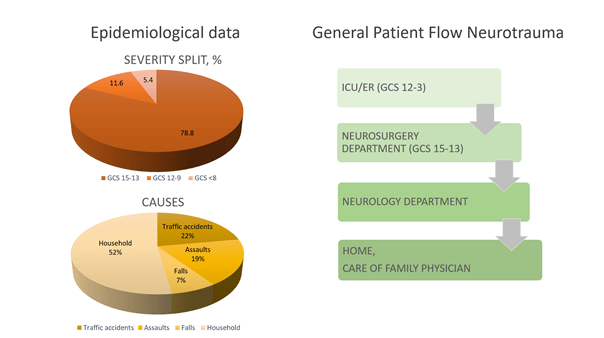 With growing awareness of the burden of TBI, all participants noted the importance of such meetings and the intention to continue AMN – Uzbekistan cooperation in many areas. The following activities were suggested to be organized in Uzbekistan in the near future:
Annual national training course on comprehensive neurotraumatology care, including neurorehabilitation;
Initiating of TBI research according to high-quality standards;
Team building workshops to facilitate cooperation across medical specialties (neurosurgeon, neurologist and rehabilitation specialist);
Training courses for TBI care – neurosurgeons, rehabilitation specialists, nurses and ICU-nurses.
Over 300 neurosurgeons and neurologists participated in the interdisciplinary webinar, laying the base of discussion for new horizons of cooperation and opportunities in the field of traumatic brain injury problems.
The AMN is open for collaboration with all local communities. For inquiries regarding our activities and how you may join our effort to promote multidisciplinarity in neurotraumatology, please visit our website or write us your message at office@brain-amn.org.